Influencer with an engaged audience for your business: advertise products on TikTok, YouTube, or Instagram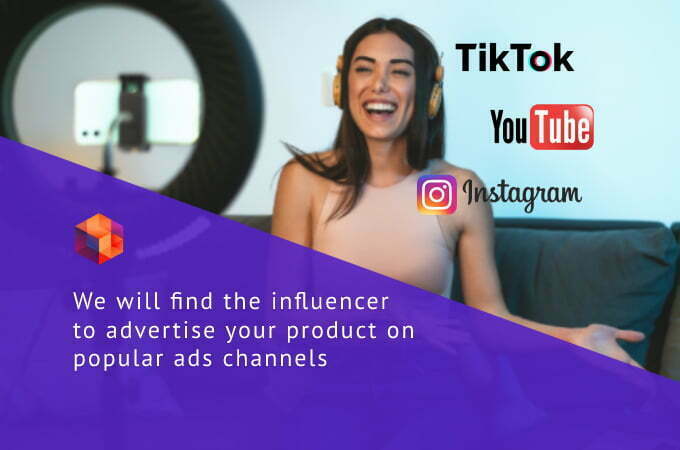 Do you have a product that you want to promote through influencer marketing on popular platforms like TikTok, Instagram, or YouTube? Do you want to present your product, service, or company to a large and engaged audience?
Influencer marketing is an excellent advertising channel for your business. You can promote your company's products to a targeted and loyal audience through a trusted influencer. This audience enjoys consuming content from their favorite influencer and has a basic level of loyalty towards the information presented by the influencer. Thus, a well-integrated advertisement through an influencer is the key to reaching a large pool of engaged viewers (compared to traditional advertising channels where the audience encounters your ads for the first time).
As part of this service, we will select influencers who meet specific criteria such as the number of followers, follower demographics, audience age, audience quality, advertising cost requirements, advertising format, and other important details.
---
We act as a service provider and allocate a person for you. You work directly through our management system. We do not interfere with routine tasks between parties but assist in resolving significant issues (disputes) and act as a guarantor.
Please fill out the form on our website or ask any questions in chat.
General terms of Service:
The stated service cost is a placement fee for finding the specialist you need.
After receiving the payment, we will start the process of selecting the appropriate specialist. The duration of the selection process depends on the specific request.
Once the specialist is found, you will be granted access to the remote work platform, where you will begin working together during a trial week. This week allows both parties to get acquainted and familiarize themselves with the work processes.
After the trial week ends, both parties proceed to full-time collaboration. The client pays the pre-agreed with Cuberfy monthly salary for the employee's work through the Cuberfy service.
The Cuberfy payment service disburses the salary to your outsourced employee on a delayed basis, deducting its commission.
Reviews
Our small business was in need of an influencer to promote our own skincare brand. We had been struggling to find a suitable Instagram blogger and nearly fell victim to scammers with inflated followers. That's when we turned to Cuberfy for assistance in selecting influencers within our niche, in our region, and with a relevant audience. As a result, we found an Instagram blogger who also had accounts on other social media platforms.
We were able to create an engaging advertising integration that worked out well for us.