Remote Administrative Manager: solve up to 80% of your business tasks efficiently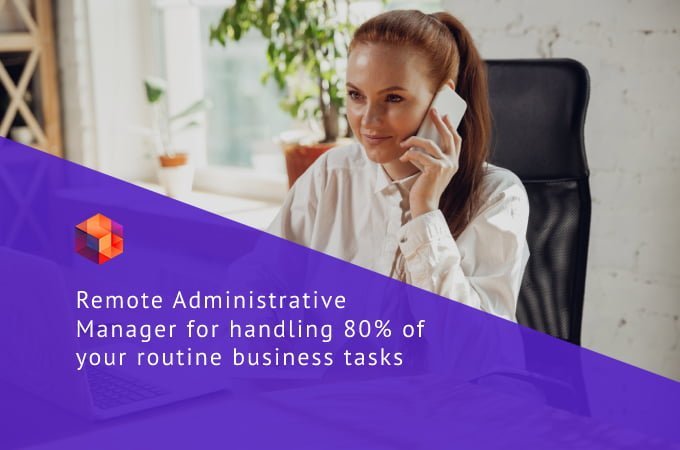 Remote Manager for handling 80% of your routine business tasks. Suitable for startups, small, medium, and large companies, or as a personal assistant for managing private entrepreneurial activities.
We strive to find people for you and your business who adhere to universal rules and are capable of performing any routine tasks.
However, each person and each request is unique. We have specialists with broad and narrow profiles. If necessary, we can create a remote team based on a customized request.
After reviewing your request, we will select a specialist within one to two weeks (sometimes faster).
We will organize an electronic workspace for you, such as creating an account in the Basecamp system, where you can exchange messages, files, assign tasks, and more.
Our remote staff is oriented towards long-term cooperation. A specialist is allocated for a minimum of one month, working from 4 to 8 hours per day. Payment is made via the company's card on our website (you are not hiring the person directly into your company, but working with us as an outsourcing company, purchasing an electronic service – thus avoiding employment issues, employee tax payments, and other legal obligations).
The remote manager can handle tasks individually or in combination, including:
Sales management, customer interaction, and support (textual responses to customers in chats and via email).
Social media management, including content creation, managing advertising campaigns, and analyzing effectiveness.
Copywriting, article preparation, updating website information.
Brand reputation management and public relations (press release preparation, coordinating placements).
Website management and content updates (provided the website management system is user-friendly and does not require programming skills).
Presentation and document creation and editing.
Prospecting for new clients and partners (preparing letters, email campaigns, collecting databases from open sources, and similar tasks).
Placing products on bulletin boards and marketplaces.
Maintaining communication and coordinating work with sales, production, technical support, and other departments.
Project management and team coordination (if within the specialist's competence).
Supporting communication and coordination with different departments of the company (including existing remote employees).
Working with service providers and coordinating processes, tracking deadlines.
Engaging additional parties to accomplish multitask assignments.
Organizing meetings, conferences, webinars, and other events (venue search, price and condition negotiations).
And other similar tasks that can be performed by our remote specialist.
---
We act as a service provider and allocate a person for you. You work directly through our management system. We do not interfere with routine tasks between parties but assist in resolving significant issues (disputes) and act as a guarantor.
Please fill out the form on our website or ask any questions in chat.
General terms of Service:
The stated service cost is a placement fee for finding the specialist you need.
After receiving the payment, we will start the process of selecting the appropriate specialist. The duration of the selection process depends on the specific request.
Once the specialist is found, you will be granted access to the remote work platform, where you will begin working together during a trial week. This week allows both parties to get acquainted and familiarize themselves with the work processes.
After the trial week ends, both parties proceed to full-time collaboration. The client pays the pre-agreed with Cuberfy monthly salary for the employee's work through the Cuberfy service.
The Cuberfy payment service disburses the salary to your outsourced employee on a delayed basis, deducting its commission.
Reviews
I needed a manager who could assist me with all my work-related matters. However, I didn't want to hire an employee directly into my company due to additional legal complexities. Through Cuberfy, I can work with my dedicated manager using the Basecamp system. Moreover, I can pay for their services through the platform and receive an invoice for the purchased service (for my company's accounting purposes).
In just a few support messages, we found a suitable candidate and started a trial period. We have been working together for over six months now.